4 Customer Experience Metrics You Might Be Overlooking
As brands continuously evolve to meet the needs of their consumers in today's fast-paced marketplace, customer experience metrics and measurements have become critical to the success of any business initiative, from internal change management programs to high-budget consumer-facing advertising blitzes. Leaders want to see results from these investments, and the best way to prove that value is through careful and insightful analysis of the collected customer experience data.
In customer service and support, good performance is critical to keeping your contact center running smoothly and keeping both your customers and agents happy. By now everyone is familiar with metrics like Satisfaction Ratings, NPS Scores, Response Times, and Resolution Rates, but there are a few more subtle customer experience metrics you might be missing that can speak volumes about the quality of your overall customer experience.

First Contact Resolution Rate
In terms of efficiency, you can't do much better than a high first contact resolution rate, or the percentage of cases your team is resolving in one response. To find this rate, make sure you're tracking the number of interactions in a each case and determine the number of one-touch resolutions – you can make this figure more complete by asking these one-touch customers if their case was resolved and then track those positive responses against your one-touch rate.
First contact resolution is a key customer experience metric to measure because it can potentially be measured across multiple service channels, including phone, chat, or social media, to determine which is most effective at helping customers resolve issues in a single interaction. This can also give you visibility into what kinds of questions or concerns your customers are bringing up most frequently – are they complex questions that require multiple interactions? Are they asking these more complex questions around a particular product or service area? By pinpointing the cases that aren't resolved in single touch, you'll be able to better focus your efforts on these areas that require more nuanced support.
Solving issues in one contact also reduces overall customer effort and improves their experience, and can garner valuable feedback about the interactions that can be utilized to make additional improvements. If your first contact resolution rate isn't very high, consider the types of questions customers are asking and whether you might need to supplement your live agents with knowledgebase-integrated chatbots. These self-service solutions can be deployed most efficiently in a channel that has already proven more efficient at answers questions in a single response, so live agents can take on more of the heavy lifting needed for more complex issues.

Escalation Rate
To get a better view of how your agents handle issues on their own without escalation, look at the overall number of escalated cases as a percentage of total cases. This customer experience metric could also be broken down by region, product, or business unit, for more in-depth comparison. More escalations may indicate issues with the service agents, particularly if one has a higher rate than the rest. Fewer escalations demonstrates that your agents are more informed, engaged, and empowered to resolve issues on their own.
To reduce escalations and improve your overall escalation rate, support bots can automatically triage and intelligently escalate to live agents when needed. Once the customer has been transferred to the live agent, they shouldn't have to repeat their issue if the bot provides immediate contextual information to agent, making the overall experience more effortless and efficient.

Average Handle Time
While Average Handle Time (AHT) is one of the more popular customer experience metrics, it can be a vanity metric if the quality of interactions falters as a result of faster handle times. When analyzing AHT, make sure you look at the total average duration of a single interaction, including hold time, talk time, follow-up and related tasks as well as the overall duration from start to finish. Consistently long AHTs might indicate areas where your team is lagging, or highlight which products or kinds of queries are slowing down the process. AHT can also help you plan and forecast for future hiring needs when compared to average call volume.
Improving AHT can be a challenge – and may not do much to improve customer experience at all, if actual call time is the only area you address. If certain calls show up with longer times, try to find out why the customer called, where they were in their support journey, and what you and your team could have done to prevent it. Customer self-service technologies can help reduce the overall AHT, helping customers find what they need quickly and without tying up a live agent in the process.

Customer Effort Score
Finally, this customer experience metric might take some additional steps to measure effectively, but can be well worth the effort in improving your overall customer experience. To calculate your customer effort score, follow up on resolved tickets with a survey asking customers how much effort they feel they expended to resolve their problem, on a scale of 1-5. A lower score means the customer feels they had to put very little to no effort into resolving their problem, while a 5 indicates they felt they had to put a lot of effort in on their own.
Find the average of all the effort scores you receive against the total number of customer responses to see your customer effort score; lower scores indicate customers on the whole felt they didn't have to put a lot of effort into their issue. This feedback is important when reviewing your overall customer experience and the quality of the interactions, and can also be a good predictor of customer loyalty. If your score is high, you may want to factor in additional metrics like AHT, number of replies per case, and churn rate. You can also look at the total number of submissions by customer and track relevant channel-switching metrics to see where you can reduce this friction across your entire support process.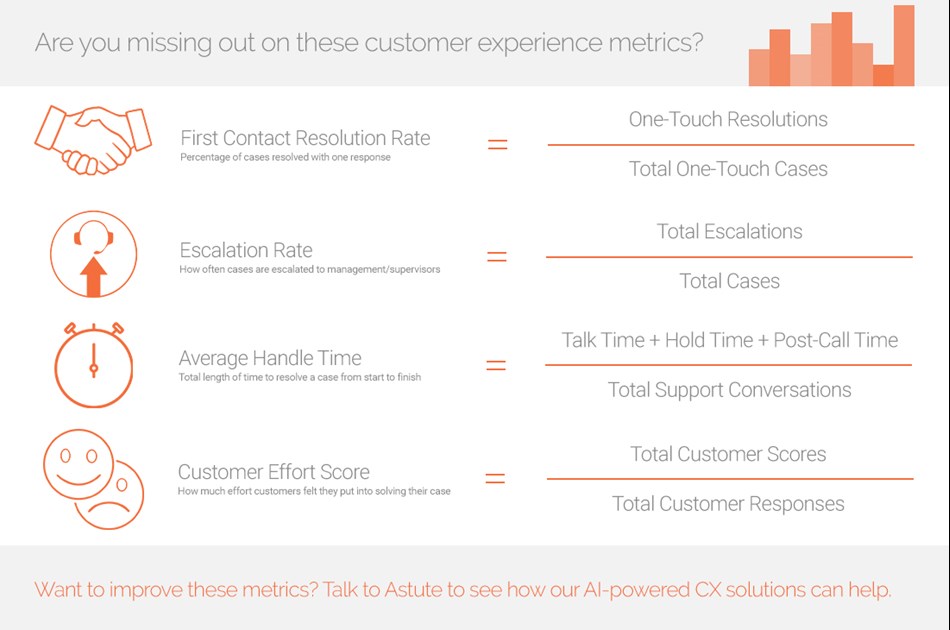 There are dozens of metrics and tools you can use to determine the effectiveness of your customer support programs, but those numbers alone won't help you improve your customer experience if you don't use them to glean actionable insights and follow through with the next steps needed to make those improvements a reality.
If you're looking for ways to improve your customer experience metrics, talk to Astute to learn more about how our AI-powered solutions can help your team resolve more issues faster, and with less friction for your customers.
Related Content