COVID-19 Employee Screening: How the Vaccine and Faster Testing Could Change Your Approach
As of December 2020, the majority of US states require some kind of employee health screening to minimize COVID-19 exposures in the workplace. By asking employees to self-screen for symptoms before reporting for a shift, companies hope to prevent large-scale outbreaks among their teams. (To see state-by-state guidelines, check out our COVID-19 Health Screening Requirements Guide.)
In response, many employers have embraced digital health tracking, such as Astute's Health Screening Chatbot: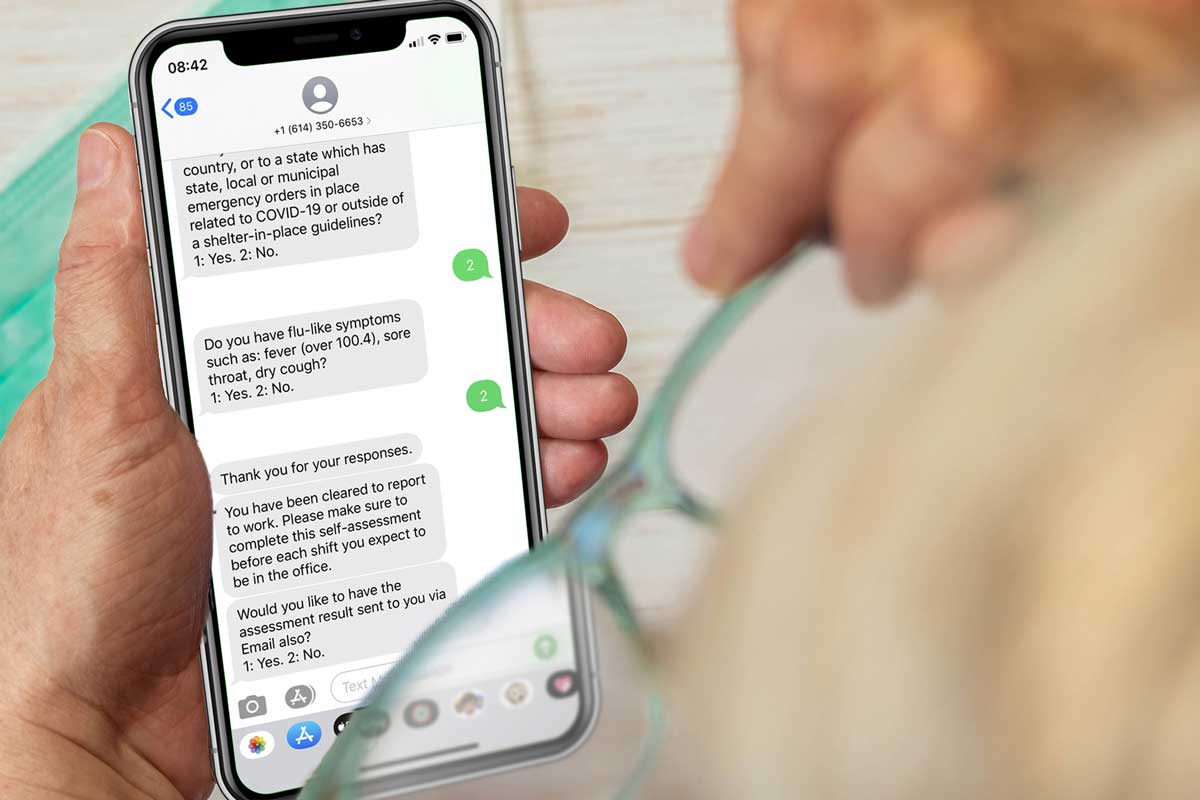 This chat-based solution allows employees to self-screen for common symptoms in about three minutes, using CDC guidelines for COVID-19 transmission risk factors.
But with new, faster options for testing and with COVID-19 vaccines rolling out, should employers change their employee self-screening processes?
Let's take a closer look.
COVID-19 Vaccination Rollout
At the time of this writing, just over 3% of the US population has received the COVID-19 vaccine. In general, states are prioritizing the most at-risk populations first, such as front-line healthcare workers, nursing home residents, essential workers, and the elderly.
As vaccination protocols shift from these early phases to becoming more widely available, companies may want to measure what proportion of their workforce has not yet received the vaccine compared to those that have received their first and second doses (and when).
Companies can use this information to assess when it may make sense to:
Bring remote workers back in
Open locations that may have been shuttered
Begin relaxing other public health measures in the workplace (although this is likely still a long way off)
It's also a way to track which employees have complied with a vaccine mandate, should you choose to put one in place. In December 2020, the Equal Employment Opportunity Commission (EEOC) issued guidance that employers can require their workers to get the vaccine. There is an expectation that employers will be one of the driving forces of reaching herd immunity (and therefore some semblance of normalcy) through the COVID-19 vaccine, since you can now make it a condition of employment.
Keep in mind that public health experts are still encouraging everyone to continue following the basic safety measures of mask-wearing, social distancing, sanitizing, hand-washing, etc., for the time being – not only because it will take time to reach herd immunity via vaccination, but also because we don't yet know how long vaccine-induced herd immunity will last.
Digital chatbot-based screeners like Astute's can be easily modified to capture vaccination information from employees to track trends over time and monitor compliance with relevant company policies.
Faster, More Available COVID-19 Testing
Compared to just a few months ago, it is now quicker and easier to get tested for COVID-19. Although most diagnostic tests are still performed by a health care professional, several companies now offer at-home testing kits – some even available without a prescription.
With faster and more readily available COVID-19 testing, some companies may choose to offer ongoing testing to their employees as part of their pandemic plan. Others may opt to simply track whether employees have taken a test of their own volition or on their doctor's orders.
With every company choosing to handle this issue differently, using a flexible, digital chatbot-based option makes health screening adjustments very straightforward. By simply adding new questions to the screener bot, employees can self-report when the test was taken and whether it was positive or negative. Depending on the result, the chatbot can then tell the employee they are cleared to come to work, or to stay home.
Astute's award-winning Health Screening Chatbot makes it easy for employees to self-screen for COVID-19 in the comfort and safety of their own homes. The data is captured securely to maintain privacy while tracking responses and measuring trends. As official guidelines, vaccine availability, and testing capabilities change, this flexible technology is designed to adapt along with it.
See a quick demo of the Health Screening Chatbot and learn how it can help keep your team safe.