Top 40 Customer Experience Statistics To Know in 2021
When it comes to customer experience statistics showing the impact on a company's bottom line, "the hits just keep on coming," to quote many-a great legendary radio DJs.
We live in the age of the customer. They now have the means and technology at their fingertips that quickly present them access to more options than ever before. Your customers want to do things their way. They expect brands to give them what they want, how they want it, and when they want it.
More customers are prioritizing experiences above all else when picking between brands. As a result, the ability to deliver top-notch experiences customers expect can significantly impact your bottom line.
A lot of time and resources (and buy-in from the very top of the organization) are needed to design, implement, and manage a successful CX initiative. However, as we explore in this post, ample research and customer experience statistics argue that the effort is worth it in the end.
Here are more than 40 customer experience stats you should know today.
Customer Experience is as important as ever.
It's no secret that exceptional CX is critical to a brand's success today and long-term. As these customer experience statistics show, its impact can't be understated.
Companies face immense pressure to deliver excellent CX
Customers prioritize positive experiences above all else
Did you know?: Business and IT professionals have invested 24% more in Artificial Intelligence (A.I.) during the COVID-19 pandemic (Gartner).
Key takeaway: The importance of CX continues to grow. To meet customers' ever-growing expectations, brands must focus on designing optimal experiences and identifying and addressing critical pain points across the customer journey.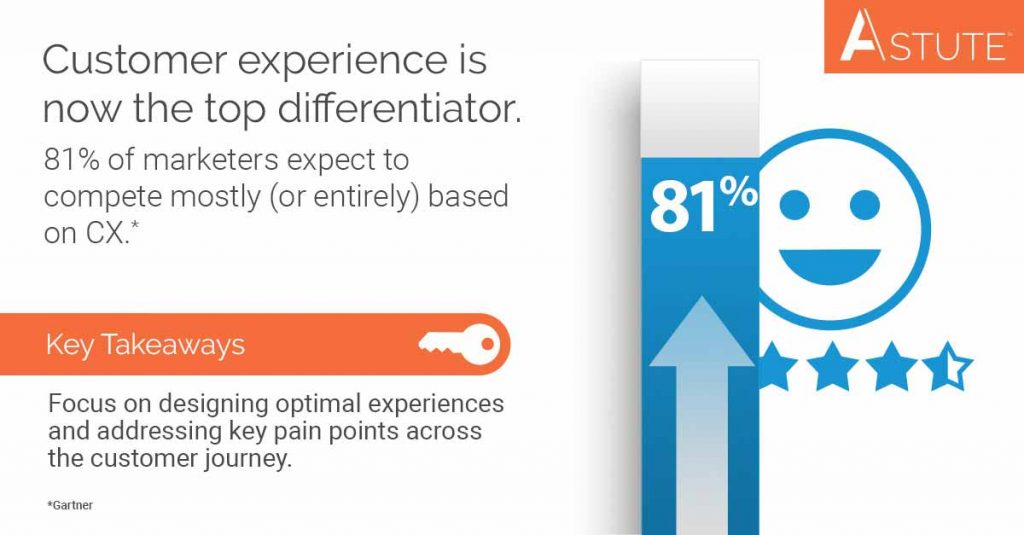 Great CX leads to happy customers (and bottom lines).
The connection between quality CX and happy customers is undeniable (so is its link to a brand's bottom line), as these customer experience statistics show.
Customers want great experiences (and will pay to get them)
CX helps build more fruitful customer relationships
Customers are seeking experiences personalized to them
CX wisdom: "Listening offers data. Hearing offers empathy and intelligence. Activity, action, and engagement steer perspective and encourage a sense of community and advocacy." Brian Solis
Key takeaway: Brands that offer good experiences are more likely to see their revenue grow faster than those who don't put CX as a top priority. Customer feedback – understanding their needs, expectations, preferences, and how they perceive their experiences with your brand – is critical to understanding how best to deliver the CX they desire.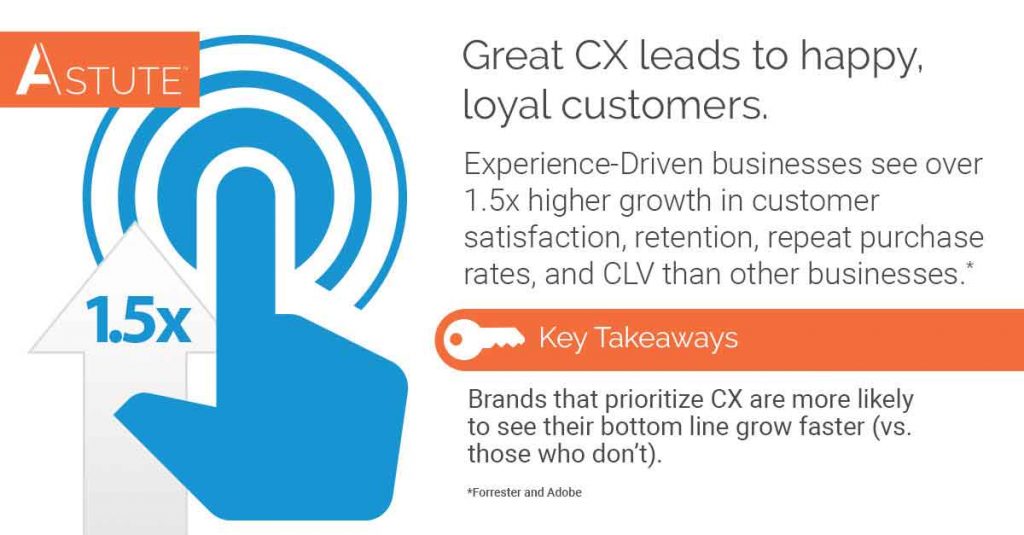 With CX, there's little room for error.
With more information and options at their fingertips than ever before, customers expect easy, quick, and frictionless experiences. Otherwise, they will take their business elsewhere.
Customers expect answers, fast
Consistency is key to great CX
Did you know? Speed, convenience, knowledgeable help, and friendly service = the most critical elements of positive CX according to U.S. consumers. (PwC)
Key takeaway: Every experience counts. Brands must not only measure the experience at key moments throughout the customer journey; they must also ensure these insights reach the right people at the right time to enable quick action.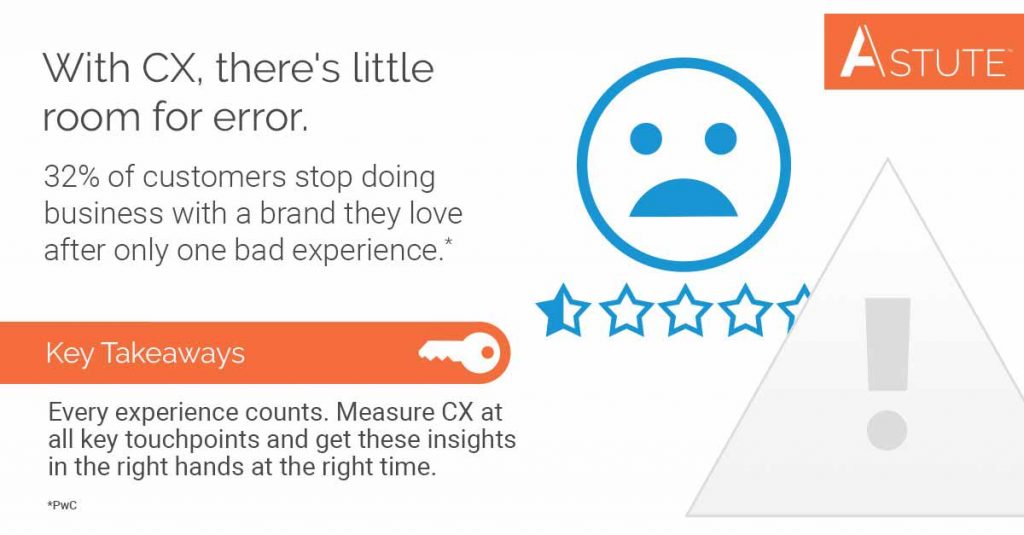 Customers are more mobile and self-sufficient than ever.
Customers want access to the information they need right now, wherever they are, without having to go through anyone to get it (unless they have to).
Don't overlook the Mobile shopping experience
Customers want to help themselves when possible
Did you know? Live customer service channels (phone, live chat, and email) cost an average of $8 per contact. Self-service channels? Only $0.10 per contact. (Gartner)
Key takeaway: When it comes to CX, brands must adjust to their customers, not the other way around. Determine how you can best adapt your CX design to cater to their preferences and habits.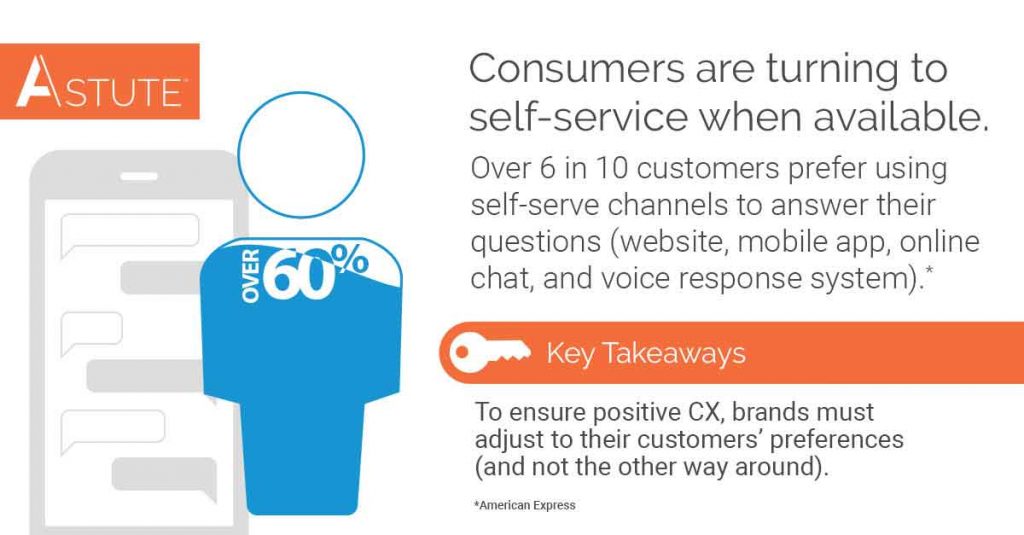 Superior customer care reinforces excellent CX.
Consistently positive customer experiences post-purchase is essential to customer retention and turning first-time buyers into loyal customers. Today, CX leaders leverage a robust mix of self-serve tools and knowledgeable agents to help deliver these experiences for their customer base.
Emerging technologies play an increasingly prominent role
Customers expect more and more from your agents
Key takeaway: Leveraging emerging technologies (such as AI-driven chatbots) and empowering agents with timely insights (and limiting their need to search for info across multiple systems) are helping brands support and inform their existing and potential customers and breed brand loyalty.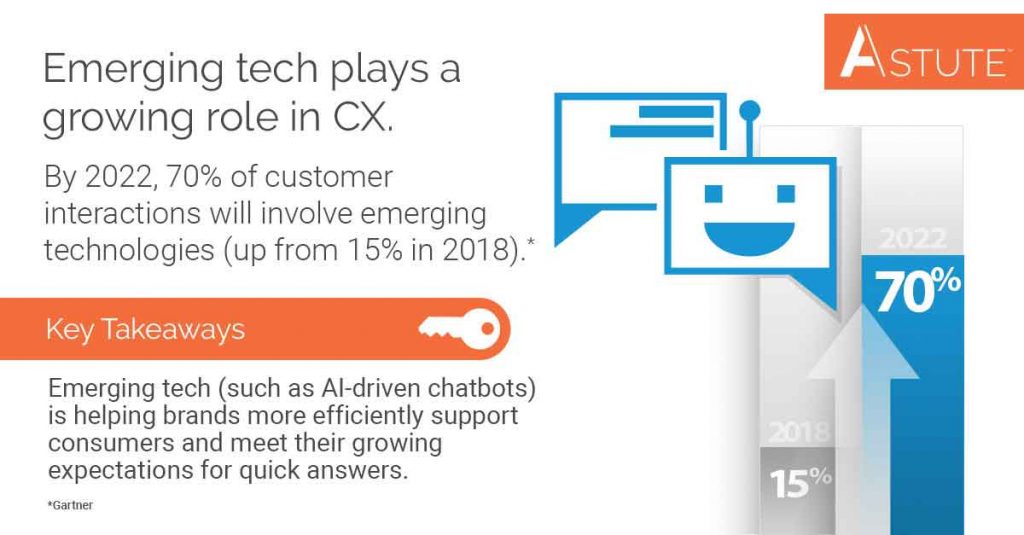 Word-of-mouth becomes increasingly powerful.
It's easier than ever for people today to share their experiences (or horror stories) with others. Outstanding CX encourages people to paint a positive picture of your brand to others.
One great experience can go a long way
Did you know? Answering a customer complaint on social media can increase advocacy by as much as 25%. Not responding to a complaint on social media can decrease customer advocacy by 50%. (Convince & Convert)
Key takeaway: The snowball effect of good and bad experiences is as prominent as ever today. With word-of-mouth's significant impact on people's purchasing decisions, having the measures to monitor and quickly escalate brand mentions and reviews from social media and review sites is essential to gauge customers' experiences with your brand and address potential product and PR issues.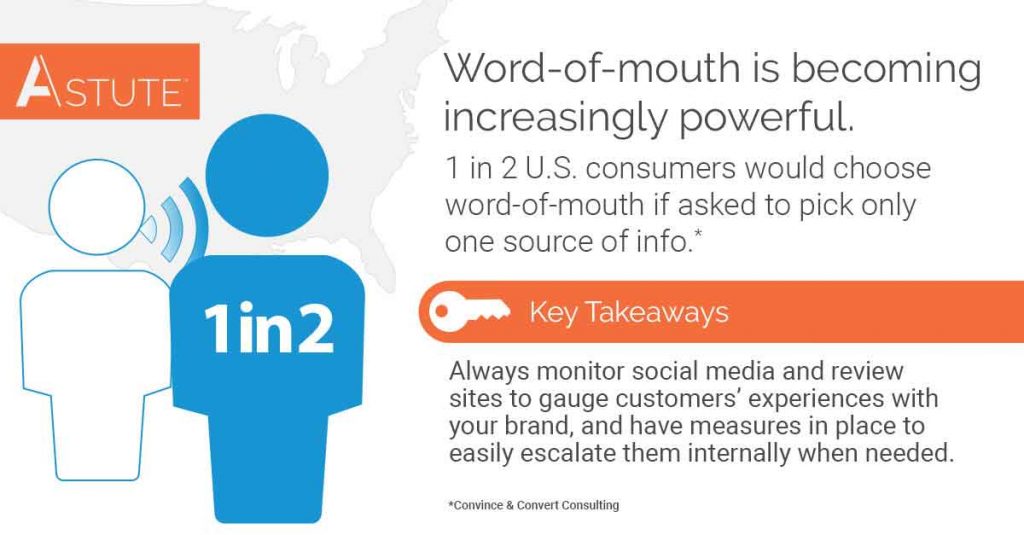 What do leading CX-driven organizations do?
What can an organization do to boost their customers' experiences and become a CX leader that stands out from the crowd? Here are some customer experience statistics to consider:
Leverage emerging technologies
Focus on the entire customer journey, not just individual experiences
Organize your teams to ensure CX is given top priority
Key takeaway: How the burden of CX is assigned internally varies based on the organization. However, one thing is constant – CX needs buy-in from the very top of the organization to be successfully deployed and instill a culture that prioritizes customer focus.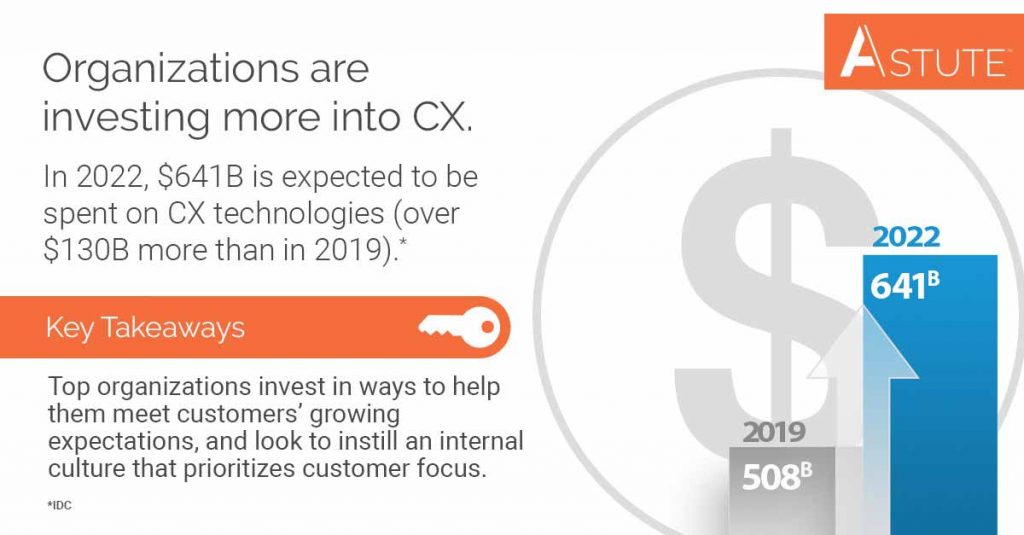 What lessons can we learn from these customer experience statistics?
As these customer experience statistics suggest, the impact of CX reverberates to your bottom line in many ways. To be successful, a CX program can only succeed if you put the customer at the heart of all your decisions and that your teams are equipped with what they need to meet customers' ever-growing expectations.
The right customer engagement tools can help you understand your customers and their experiences across the entire customer journey. They can also empower your teams with the tools and insights they need to elevate these experiences and help your company stand out from the crowd as a CX leader.
At Astute, we help leading brands elevate experiences across the customer journey with proven customer engagement solutions, from an Agent desktop CRM to voice of the customer solutions, to AI-driven self-service chatbots and social media management software.
Request your personalized demo today to see how our end-to-end engagement platform can help.