Enterprises, Beware: 7 Reasons Free Social Listening Tools Aren't Worth Your Time
Everybody likes free stuff. But when it comes to free social listening tools, they can end up doing enterprises more harm than good.
It's understandable to keep technology investments low as you explore a new strategy, dipping your toe in the water before you decide to take the plunge. But being present and accessible on social networks has become a non-negotiable for B2C enterprises, and the time for tentative approaches or half-measures is over. Social media is a force to be reckoned with, and free social listening tools just don't do enough to support the mature social media strategy today's B2Cs need to be successful.
But before we go any further, let's cover a couple of definitions…
Social listening vs. social media monitoring
Social listening is the practice of proactively tracking online conversations about your brand, products, competitors, and topics that are relevant to your brand in order to gather insights that can help inform strategic decisions. For example, you could use social listening to capture the current sentiments and perceptions of your consumers; identify opportunities for lead generation, sales, or proactive customer service; find and communicate with potential influencers, and analyze your competition.
By contrast, social media monitoring surfaces social media activity your brand may need to respond to, often quickly. For example, a customer asking for help with one of your products via social media, or an influential celebrity posting something negative about your brand. These situations require a swift response to meet customer expectations for service, or to keep an impending brand crisis at bay.
7 reasons to avoid free social listening tools
Free social listening tools can give you the sense you have listening and brand monitoring under control, but there are several elements missing from most free tools that can put your brand at risk.
Here are seven reasons to not be lured in by the promise of "free."
1. Monitoring limited only to "traditional" social networks
In recent years, social listening and monitoring have expanded beyond the typical social networks of Facebook, Twitter, Instagram, and the like, to include anywhere on the internet where relevant conversations are happening about your brand. But free tools don't cover the full breadth of sites. In fact, some of the most popular free social listening tools (Followerwonk and Tweetdeck) are limited to only one platform, Twitter. Without casting a wider net, you'll end up with an incomplete understanding and could miss valuable conversations.
Instead, look for a social media listening tool that can track mentions and keywords across all the networks your consumers are using, and constantly discover new conversations wherever they are happening.
2. Limitations on what and how you can track activity
Free social listening tools stay free by setting limits on the number of mentions and profiles you can track, as well as the number of users. For example, the free version of Hootsuite limits you to just three social profiles.
For companies with multiple brands and products, hundreds of thousands of mentions, and entire teams devoted to social media marketing and customer care, this model just isn't scalable.
3. No support for social customer service at scale
And speaking of scale…
One of the biggest reasons to engage in social media monitoring is to identify and respond to customers who want to communicate on this channel. Free social media listening tools lack vital integrations with CRM systems, as well as the tools any customer care team would need to provide effective customer care via social media. For example:
Identification of urgent, actionable posts
Automatic routing to the best agent to help
Ability for the agent to resolve the case either in the social tool or agent desktop with no duplicate work
Pre-built response templates and in-the-moment guidance
AI-driven service chatbots embedded within social messaging
Without this toolkit, social customer care teams simply don't have what they need to do a good job.
4. Lack of robust, automated reporting
Some of the most popular free social listening tools on the market offer reporting on audience sentiment, demographics, and post engagement, but they have their limits. And other popular free listening tools, like Google Alerts, require you to set up every imaginable permutation of relevant keywords, then sort through the results manually. Clearly, more powerful and more automated reporting is needed.
To get the most from social listening, brands need analytics on audience sentiment and emotion, their affinities and behaviors, other concepts they associate with your brand and products, visibility and engagement metrics for branded content and ads, automated recommendations of the best content to share and when, share of voice vs. competitors, and more. Social listening dashboards available in more robust social media tools can offer this comprehensive insight with a fraction of the manual setup.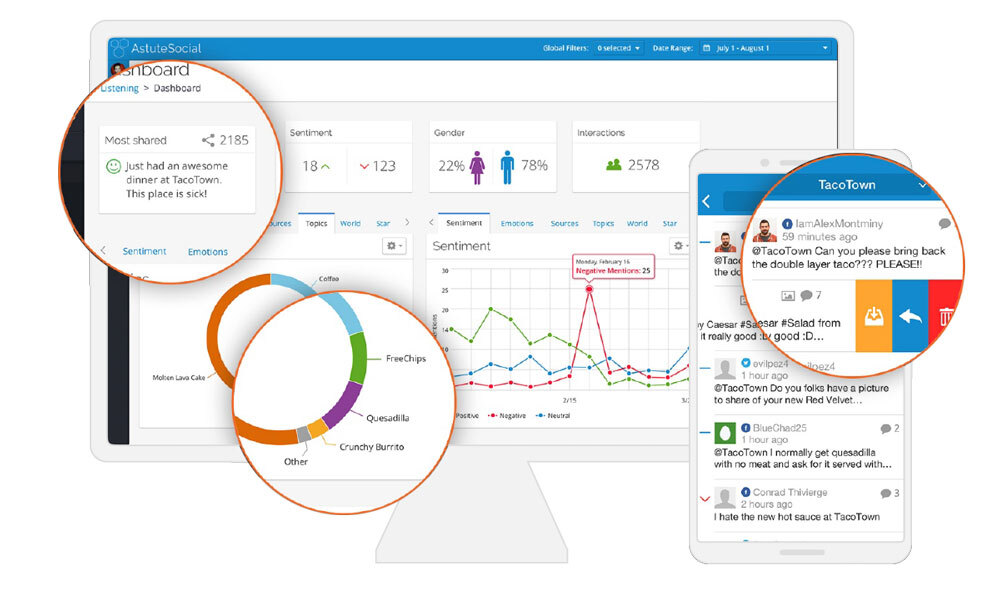 5. No integration to share data with the rest of your organization
Having social media teams analyze the metrics above is a must, but what about sharing the insights organization-wide? Social media is an important source of first-party data about your consumers, and other teams in your company could likely benefit from having access to the data – as well as the ability to combine it with other data sets to get a more complete picture.
Make sure your social media management software is part of a platform that can integrate into business intelligence (BI) tools like Tableau, allowing you to merge together data from multiple first-party sources to gain an unparalleled understanding of your customers' perceptions, behaviors, and sentiment.
6. Lack of crisis management capability
If there's a spike in negative conversation or sentiment about your brand, do you think a free social listening tool is going to be able to 1) detect that anomaly and 2) alert you to it? Without advanced threshold alerts and warnings, these types of tools leave your brand vulnerable to risk. And a brand crisis can be costly: negative brand events cause an average 20% drop in company value, and the corporate reputations across the S&P 500 account for $4 trillion in market capitalization.
This is where the idea of combining data from multiple sources again comes into play. When you're using an integrated solution for social listening, marketing, and customer care, you can detect signs of a potential crisis from multiple data sets, including customer complaints coming into the CRM as well as social media buzz. This creates an "early warning system" that can give you time to get in front of a potential crisis.
7. No ratings and reviews management
Research shows that 91% of people regularly or occasionally read online reviews, and 84% trust online reviews as much as a personal recommendation. Not only do online reviews provide valuable insight into the experiences consumers are having with your product and services, but they also provide opportunities to turn a detractor into a promoter in a highly visible setting.
A social media monitoring tool worthy of an enterprise B2C must include a way to measure, manage, and respond to online reviews and ratings, including Google Reviews, Amazon Reviews, Bazaarvoice, and more. None of the top free social listening tools provide a comprehensive way for teams to see reviews all in one place and respond to customers quickly and effectively.
B2C companies, especially those at the enterprise level, have too much at stake to leave their social listening to a free tool. The world's leading brands trust Astute for social media listening, customer care, and marketing. With flexible platform pricing, unlimited users, and the ability to track relevant mentions and conversations for all your brands, Astute offers a single, unified solution for all social media management functions, from gathering valuable insights to providing customer service to scheduling out your social content calendar.
Learn more about Astute Social and schedule a live demo today.