Gain a Competitive Edge with Voice of Customer Insight
[Estimated read time: 4 minutes]
Every company has its strengths.
When it comes to the customer experience, brands can be advanced in some areas, but have room for improvement in others.
To help companies understand where their CX strengths and weaknesses lie, Astute has developed the Customer Experience Maturity Framework, which maps five core competencies (self-service, escalation, personalization, voice of customer, and channel choice) along a one to five scale.
This blog series covers each of the five competencies in turn, exploring how companies can advance through the levels and enhance their CX. Let's dive into what it takes for a voice of customer (VOC) program to excel.
Voice of Customer Maturity Factors
A sophisticated voice of customer program provides a competitive edge. In fact, firms with VOC programs have been shown to outperform their competition across a variety of metrics, including revenue, Net Promoter Score, and first contact resolution.
Here are the factors that matter for VOC programs:
Types of information collected, including direct, indirect, and inferred

Consolidation of data into an easy-to-analyze format

Ability to derive usable insights from data

Timeliness of insights, including ability to use real-time data in decision-making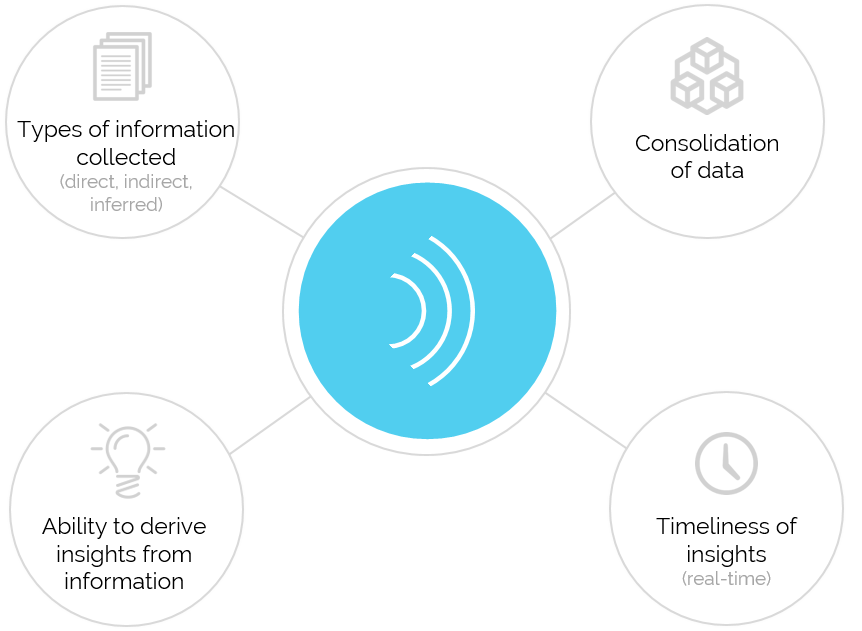 The 5 Levels of Voice of Customer Maturity
Level 1
Characteristics
At Level 1, companies are collecting and storing voice of the customer data, but it is often fragmented and difficult to access. Limited reporting capabilities result in information that isn't as accurate or valuable as it could be.
How to get to Level 2
To reach the next level, focus on making your customer data more easily accessible to the departments that need it. A customer engagement CRM can help you consolidate customer data in one central system, ensuring you have a single source of customer truth.
Level 2
Characteristics
Although the teams that need your VOC data are able to access it, they may be struggling to glean insights from the data. This quandary is not uncommon — according to Forrester, only 29% of companies are successfully using their analytics to drive action.
How to get to Level 3
Start by evaluating your customer analytics to find out why they are not easy to interpret. Often, there are one or more of these factors at play:
Data is not timely

There are too many "vanity" metrics

No automated way to derive insights from unstructured data sets (such as customer verbatim)
Additionally, it would be helpful to include more than one type of VOC data. As an example, if you're using mostly direct VOC, such as customer surveys, consider adding indirect VOC, such as social listening information. Multiple data sources will give you a more complete picture of what your customers really think.
Level 3
Characteristics
Level 3 companies are collecting more than one type of VOC data, such as direct, indirect, or inferred. But you may be experiencing challenges when trying to consolidate that data into one holistic view.
How to get to Level 4
Focus on 1) comprehensiveness and 2) consolidation. To achieve comprehensiveness, collect data from the three categories of VOC data. Include analytics from sources like CRM case data, surveys, and social media listening. Then, consolidate relevant data from all your channels and sources into one view for easier analysis.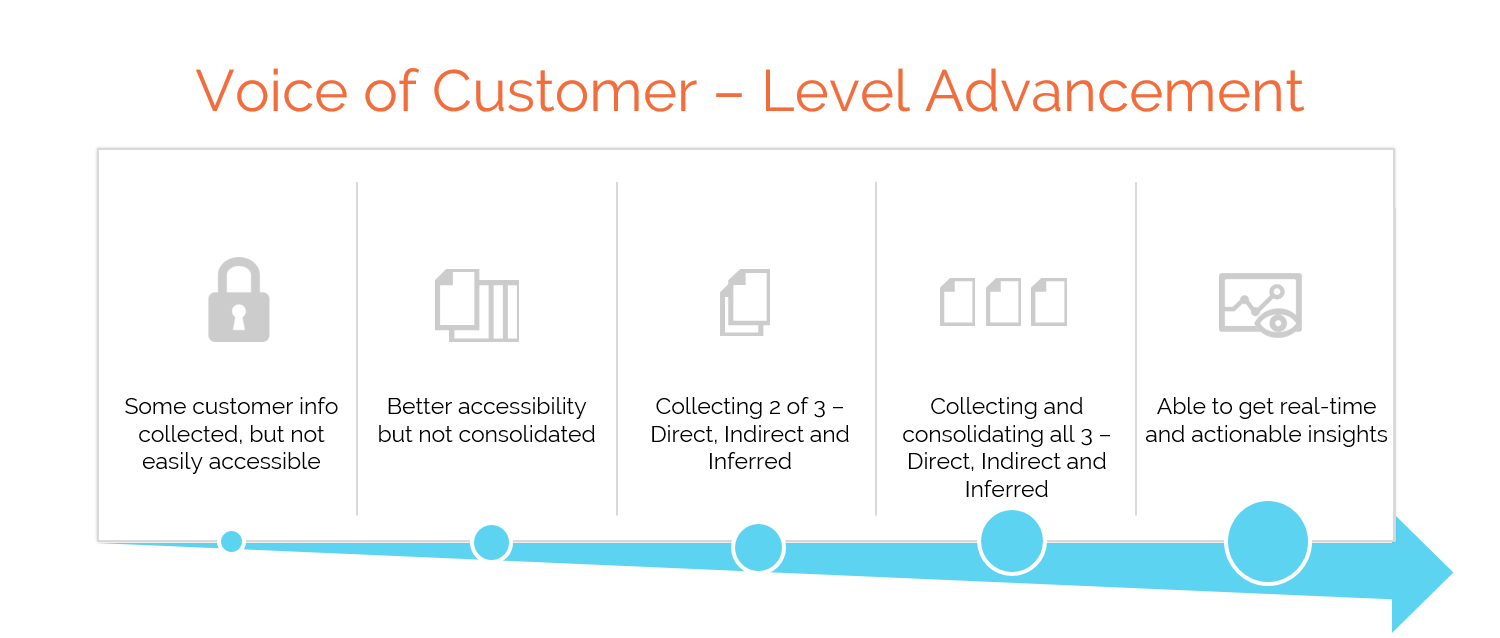 Level 4
Characteristics
Companies at Level 4 are systematically collecting, consolidating, and analyzing all three types of VOC data. This comprehensive, integrated approach is undoubtedly important to long-term success — Inquisium found that top-performing firms are 92% more likely to use automated processes to integrate feedback and sentiment data captured across multiple channels within their CRM.
How to get to Level 5
Your next focus should be the timeliness of customer insights. Only the most sophisticated, nimble organizations have built strong capabilities around responding rapidly to real-time insights. Look for ways to incorporate real-time VOC data into your decision-making processes. You should also consider setting up proactive notifications and threshold reporting to alert you to potential issues or opportunities.
Level 5
Characteristics
At Level 5, you're collecting and analyzing all three types of VOC, and making use of real-time data to discover new opportunities or threats. Automatic notifications allow you to resolve issues more quickly, mitigate risk of non-compliance, and possibly prevent negative experiences from going viral or generating unwanted press.
However, even the most advanced VOC program has room for improvement! A possible next step would be to integrate VOC insights across your organization, so that every team can make use of the data — even teams that don't work directly with customers every day can benefit from deeper understanding.
Want to see where your organization stands on VOC and the other four CX competencies? Take the Customer Experience Maturity Assessment to find out.
Related Content
Are You Making the Most of Social Insights? A 3-Minute Self-Assessment
All About: Voice of the Customer Insights 
Customer Data Quality: How to Solve Your Top 3 Challenges
3 Best Practices for Your Social Command Center