4 Ways You Can Increase Higher Education Enrollment Using the Voice of the Student
Higher Education is now one of the most competitive industries, with an ever-increasing number of students enrolling.
According to a paper by UNESCO (The United Nations Educational, Scientific and Cultural Organization), 207 million students were enrolled in Higher Education institutions (pdf) around the world in 2014, more than double than what it was in 2000.
With the demand for Higher Education increasing, so is the competition. That's why enrollment is critical to any institution's marketing strategy.
It's also important to remember that we currently live in the age of the empowered student, thanks to the rapid adoption of accessible technologies with which anyone can access information about virtually any subject they would like. When it comes to your prospective students, scarcity of information on your website and being unable to communicate the way they want could have a significant negative impact on their experience and how they perceive your institution compared to other competing institutions.
This is where customer feedback and Voice of the Student solutions can help. These resources can help you better understand prospective students, their needs and expectations, how they view your institution and, most importantly, how you can meet their needs as they start evaluating their different options.
In this post, we look at four ways Higher Education institutions can leverage the Voice of the Student to increase enrollment.
1. Who are your prospective students?
Marketing 101 – know your audience. If you want to better attract students to your Higher Education institution, you first need to know them. Who they are, what they need, what are their preferences; the answer to each of these should significantly impact how you approach your marketing efforts.
Prospective students can come in many forms, each with their own sets of needs and expectations. With a Voice of the Student solution, which allows you to invite your prospective students to provide feedback about their experience with your institution and your website, you can confirm crucial information about your prospective students, such as basic demographic information, their preferences and their needs.
With this information, you can then segment your prospective students into categories such as the ones below, and adjust your efforts to better attract these very students to your institution:
Graduating high schoolers vs. Adult Learners / Continuing Education
Local vs. International students
Undergraduate vs. Graduate students
Preference for phone vs. email vs. text communication
This information provides a strong foundation when working on your strategy to attract more prospective students to your institution and can only be accurately confirmed by asking these students directly.
2. Find the key drivers to choosing a Higher Education Institution
Once you better understand the needs and expectations of your different prospective student groups, we can now look at how Voice of the Student research can help you better understand how they think.
When researching a Higher Education institution, prospective students will have their own set of criteria on which they will base their decision. For example:
Tuition
Textbooks
Housing / Residences
School Clubs
Food / Living expenses
Sports / Local entertainment
Program / Course info
School Awards
Commute / local transit
Campus information
Employer programs / Value of degree
Financial Aid and Scholarships
This is all information that a prospective student can usually expect to find on any given institution's website, but each can influence prospective students differently when selecting a university or college.
When researching online, the depth and breadth of this information, along with the ease of finding this information, can all strongly impact the Customer Experience (CX) of your prospective students, which could in turn impact what Higher Education institution they choose.
You also need to consider some of the more intangible aspects of an institution that could also weigh heavily into prospective students' decisions – for example, the institution's reputation and how it's perceived (more on that in a bit).
While you can figure out what your prospective students may need, it is very difficult to know what holds the most weight on their decision without asking them directly. Collecting the Voice of the Student can help you identify those key decision drivers for each of the different groups of prospective students you want to attract (graduating high school students vs. adult learners, local vs. international students, etc.). Plus, it helps you determine whether they were successful in finding this information, and if so, how difficult it was to accomplish this task.
With this information in hand, you can then better prioritize how you can tailor your CX to meet these individual groups' needs, whether that includes making tweaks to your website or changing the way you communicate with them.
3. Improve the process of enrollment
Going through the actual enrollment process can be complex. You need to submit a number of documents, which can vary depending on the degree to which you are applying, among other factors.
For example, international students may also need to demonstrate their proficiency in English, while prospective students applying for an Arts program may need to send a portfolio of their previous works. Plus, you also have to consider that not everyone is on the same level of technological proficiency. What might seem straightforward to some might seem arduous to others.
The enrollment process can play a large part on a prospective student's overall experience with your institution, and how they view your institution.
If you portray yourself as a Higher Education institution that outpaces others in terms of technological advancement, you don't want to present a convoluted and outdated enrollment process that counters that perception.
It is crucial to understand how your different groups of prospective students view their enrollment experience, and to adapt your enrollment process whenever possible to meet the needs of the prospective students you are looking to attract.
A great example of this was highlighted in an article for The Guardian, in which Joe Field, Social Media Manager at Sheffield Hallam University, pointed to a lightbulb moment they had last year:
"We used Facebook Messenger to initiate the application process, giving applicants an alternative route. This year we'll offer Facebook Messenger and Twitter DMs as ways people can enquire about course availability, and for us to get basic information about applicants' suitability. We'll also field questions on Snapchat, but won't use it for applications."
You don't always need to make significant changes to your enrollment process, though. Just being able to pinpoint the problem areas that your prospective students are experiencing during the enrollment process, and getting suggestions from these students for how to iron out these issues, can prove very valuable.
Using the Voice of the Student, combined with your web analytics or session replay provider, you can leverage your own prospective students' words to identify these barriers, their causes, and their solutions so you can offer an optimized enrollment process.
4. See where you stand compared to the competition
How an institution is perceived can hold a lot of weight on a prospective student's decision. Not only are prospective students thinking about the quality of the education they will receive, but they may also be considering how future employers will view them.
A Higher Education's reputation and brand perception, like any other brand, is an intangible characteristic that can be difficult to quantify without researching the opinions of a representative portion of your target audience. However, this type of information is crucial to know if you want to determine whether you are portraying your university the way that you want to attract new students.
With the Voice of the Student, not only can you easily measure what your audience thinks of you (e.g. "What is your opinion of our university on a scale of 0 to 10?"), but you can also gauge how you compare to other Higher Education institutions on different attributes.
Let's look at a fictional use case. Consider 'State University', who wants to see how prospective students perceive their institution in comparison to other competing institutions. State University promotes themselves as a premier "dynamic, innovative and unique" institution, and they want to see whether they are successful in surpassing their competition in terms of their perceived attributes.
Using the Voice of the Student, State University asks their prospective students to rate their institution in terms of the following attributes, and then compare how they perceive other competing institutions to State University in terms of these attributes:
If it's considered a unique or exclusive institution vs. an ordinary / common institution
If it offers a dynamic and innovative learning environment vs. an idle or old-fashioned learning environment
Using the Voice of the Student, State University is now able to see which competitors are still beating them in terms of their desired brand perception: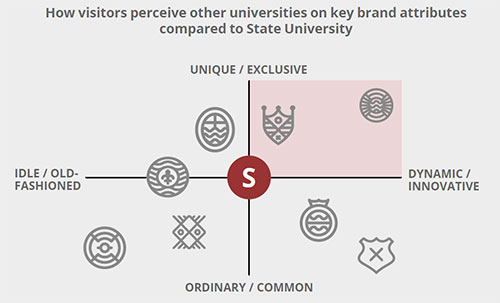 With this knowledge, marketers for State University can pinpoint specific intangible aspects of their brand that they could aim to amplify on their website or other digital properties to attract prospective students away from specific institutions, in turn helping to improve enrollment counts.
Become Top of the Class in the Industry using Voice of the Student
With an ever-increasing number of prospective students searching out Higher Education institutions every semester, any advantage you can get to attract the type of students you want can be extremely valuable. With the Voice of the Student, you can gain extremely valuable information about the very prospective students you are looking to attract:
Who they are
What they look for the most in a Higher Education institution
What aspects weigh most heavily on their experience with your institution / your website
How they see your institution compared to other competing institutions
How they view your enrollment process and the ways they want to see it improved
With this newfound knowledge, you can adjust your online and offline efforts to more closely align yourself with how you want to be perceived, attract the attention of more prospective students to your institution, and in turn, increase your enrollment counts.
This article was originally published on iperceptions.com, and written by William Braün, VP, Insights at Astute.