Mobile Self-Service: A Win-Win for Brands and On-the-Go Customers
The world is becoming increasingly mobile, and brands must adjust accordingly and offer great mobile self-service experiences.
Mobile traffic now exceeds desktop, while our demand for instant gratification and information continually grows. At the same time, Gartner found that live channels (phone, live chat, and email) cost an average of $8 per contact. Self-service channels? $0.10 per contact.
The need for brands to implement self-service mobile options to empower customers while on their mobile devices has never been higher.
What is mobile self-service?
Mobile self-service is the ability for customers to use their mobile devices to answer product questions or address support inquiries themselves via the resources and tools on a company's website, mobile app, SMS, or messaging apps. Common examples of tools that facilitate self-service for mobile include chatbots and knowledge bases.
How you and your customers can benefit from mobile self-service
We live in an increasingly mobile and on-the-go world. The number of smartphone users worldwide has grown 40% from 2016 to 2020, with users only expected to climb in the coming years.
With more than six in 10 US consumers prefer turning to digital self-serve tools for simple inquiries, this presents a significant opportunity for customer-centric companies to explore implementing effective mobile self-service resources.
Here's a look at how giving customers the resources to easily and quickly help themselves on mobile presents a win-win for them and your company as a whole.
Improve online experiences
Our expectations as customers for exceptional experiences are continually growing. A third of customers stop doing business with a brand they love after only one bad experience.
With 59% of consumers finding that self-service options improve their customer service experiences, brands should explore how they can use mobile self-service options to help customers obtain answers more quickly or guide them along their purchase path. If implemented effectively, this could help improve these online experiences and boost customer retention.
Increase sales and up-sells
Customers will not always know exactly what they want to buy. Like how a customer might approach a sales representative in a store for guidance, self-service options can easily guide mobile customers along their purchase path.
Chatbots provide a way for brands to automate this process and boost their mobile self-service efforts. These chatbots should reflect the page where the mobile user engaged them to ensure the best mobile experience, or even better, the stage of the purchasing process in which they may be.
By pointing mobile users to relevant product pages based on their inputs, mobile self-service options can help facilitate users' overall shopping experiences and, potentially, increase purchases and size-of-basket.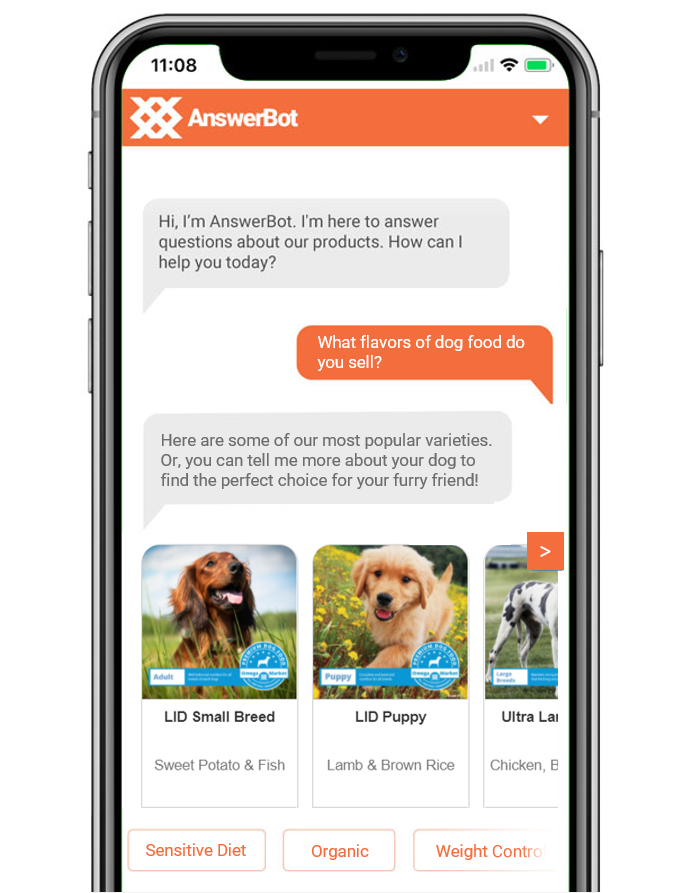 Save on support costs
Gartner research found that live interactions between a customer and a support agent can cost a company anywhere from 80 to 100 times more than if the customer uses solely self-service channels.
Implementing smart and automated self-service support resources and tools in a way that makes it easy for mobile users to address their support inquiries can help prevent them from turning to more time-consuming and costly support channels.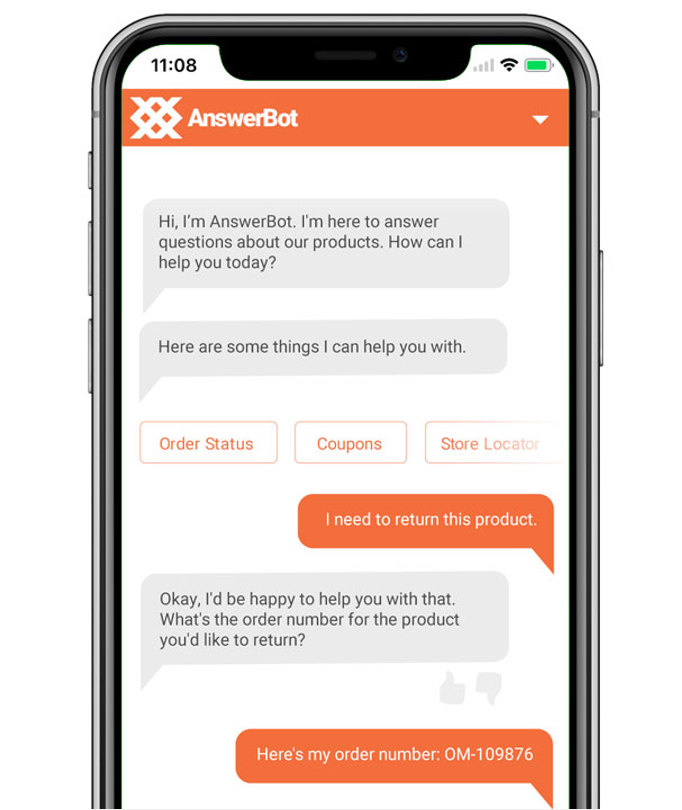 At the same time, it can help ensure customer service agents can focus their time and address more quickly new or unique support requests that knowledge bases and chatbots do not yet support.
Which brings us to the next benefit…
Generate new ideas for content
Directing mobile users to use self-service options provides a way to easily quantify what customers are asking about and their ability to find the answers they seek.
This exercise can help you find gaps in your support content and identify new trends in your customers' requests. You can then use these insights to drive content creation efforts for your website (knowledge base, blog, etc.), educate agents on how to best handle new types of requests they may see, as well as continually improve your chatbot.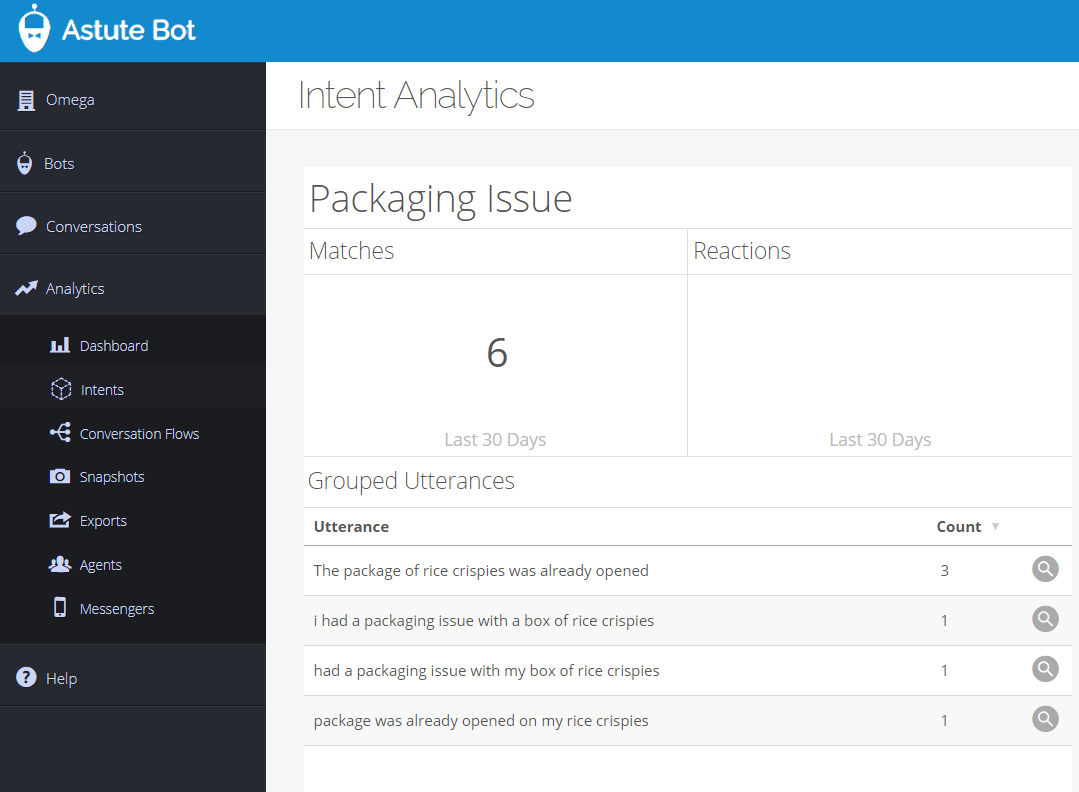 How to elevate your mobile self-service experience
A winning mobile service experience puts the customer first, and continually adapts over time to their changing needs.
Here are just some of the key ingredients that can help drive an exceptional mobile self-service experience.
Make it mobile-friendly
This seems obvious but bears mentioning. Once Google declared Mobilegeddon, companies have needed to think "mobile-first" when designing their websites to avoid negative hits to their search rankings. The goal was to ensure positive mobile experiences in a time when mobile traffic now surpasses desktop traffic.
If you fail to treat your mobile self-service tools with as much care and attention as you do the rest of your website, it can doom your customers' mobile experience from the start.
Use automation when possible
When it comes to the mobile experience, speed is essential. Seventy-five percent of people expect to get immediate information when they use their smartphone. Automation can play a key role in helping you deliver on these expectations.
Leveraging automated resources, such as chatbots, that continually adapt based on users' inputs can help provide the personalized, timely answers they need and expect from their mobile experience, and help lighten the workload for your customer service agents in the process.
Avoid having customers repeat themselves
There are instances when customers won't find the answers they need using self-service resources. When this happens, make sure customers can escalate their inquiry to a live customer service agent. As important is ensuring agents already have all the information the customer has entered up to that point.
The support experience should be seamless throughout. Asking a customer to repeat their questions or re-type information that they've already provided (especially on a mobile device) can instantly turn an otherwise positive self-service support experience into a frustrating one.
The tools to help you deliver outstanding mobile self-service experiences
If you are seeking ways to build or improve your mobile self-service efforts, Astute can help. Our award-winning AI-driven chatbot solution, Astute Bot, is mobile-optimized and makes it easy for customers to answers their questions in real time when on-the-go. At the same time, it provides your customers the ability to escalate their inquiry to a live agent when needed.
At this point, our Agent Assist knowledge engine can guide agents to the right information they need to answer your customers quickly and efficiently.
Set up an appointment today to learn more about these tools, and see first-hand how our technology and expertise can enhance your customer experience.