Social Media Analytics: What You Need to Know
Social media is as big and influential as ever. It gives everyone a voice, and a way to interact with others and their favorite brands, in ways that were only imaginable just a couple of decades ago.
In a world where the average internet user has at least eight social media accounts, the need for brands to listen is non-negotiable.
With over 3.5 billion active social media users worldwide, staying on top of what people say about your brand and your products can be a convoluted and complicated endeavor, especially if you have a strong social media presence. Not to mention, pulling nuggets of actionable insights to help drive business results becomes an overwhelming task.
Social media analytics, and specifically social media analytics tools, can save the day and minimize headaches. So, what exactly is "social media analytics"? How can you use it to take control of your social media presence and improve customer experiences in the process? We take a closer look int this post.
What is social media analytics?
Social media analytics, or social media analysis, is the practice of gathering data and feedback from social media platforms (and other public sources of feedback) and converting it into insights your company can act on to drive business results.
Social media analytics tools and software facilitate this process. These provide access to features that help brands convert massive amounts of social media data into easy-to-digest reporting that allows brands to analyze their social media presence with a few clicks, instead of taking hours.
Why is social media analytics a must-have for brands today?
It's no secret that solid social media management is crucial for any brand today. Social media gives every person a voice and amplifies it further and wider than ever before. The right social media analysis tool is one that helps you make sense of all of the online chatter relating to your brand, so you can inform your critical business decisions.
What can you do with social media analytics? Here are just some of the ways that brands can benefit:
Customer relationship management
Everyone is talking on social media. It would be detrimental for brands not only to have the tools to listen but also to discover trends in how people talk about their business and their offerings.
Brand reputation management
Trending such things as customer sentiment – whether people are talking about your brand positively or negatively – is essential to gauge how the public sees your brand. Also, to determine if your brand should consider specific actions to help elevate its reputation.
Marketing campaign effectiveness measurement
Launching a campaign or posting without the proper measurement in place is like posting in the dark. Social media analytics helps you determine what messaging connects with your audiences, when and how to best reach your audience, and what posts and platforms lead to the highest engagement and conversion rates or help people move down your sales funnel.
Issue and crisis management
Continuously analyzing and trending customer sentiment and keywords related to your brand is essential to flag potential issues. It can also help identify sudden shifts early so you can quickly address them before they get worse.
Comparative and competitive analysis
Brands should also keep close tabs on how people talk about their competitors online, and how much of the conversation they drive when it comes to certain topics. Social media analytics helps you quickly do these comparisons, helping you find opportunities to one-up your competitors.
What data sources should you use for your social media analytics?
With the proliferation of social media networks and public forums, the voice of the customer has only gotten louder in recent years. It's never been easier for people to share their opinions and experiences with brands, and for these to reach larger audiences, faster.
At the same time, and with the help of social analytics tools, brands have a growing source of insights that they can mine to understand how people are talking about their business and the general sentiment of these comments. Specifically, through the following activities:
Comments on your posts and videos
Reactions to your posts (e.g., like, favorites, etc.)
Mentions of your brand (where your brand is tagged on posts or comments) and specific keywords
Customer reviews and Q&A's of your products
Mentions of your brand on prominent blogs or news sites
Here are some of the data sources that social media tracking tools should help you monitor and analyze.
Social Media Platforms
The growth of social media networks over the past decade (even the past few years) means that people have more ways to share their experiences (and complaints) for the world to hear. Any social media tracking software should help brands detect and analyze activity from every major social media platform, especially the following (listed with the percentage of US adults who have used them, according to the Pew Research Center):
YouTube (73%)
Facebook (69%)
Instagram (37%)
LinkedIn (27%)
Twitter (22%)
Public forums and websites
A social media tracker should go beyond its namesake and extend to other public forums of feedback to gain a complete picture of how people talk about your brand (and your competitors). That includes tracking comments on:
Customer review sites and FAQs (Amazon customer reviews, Google Places / My Business, etc.)
Online forums (Reddit, etc.)
Blogs
News sites
What social media tracking metrics should you monitor?
With each social media network comes a variety of different social media metrics to track. Many well-known metrics often get the spotlight, from the number of "Followers" to "Impressions". Although, while these vanity metrics may look good on a chart you share with your boss, the best metrics to track are those that help you take action.
Here are three types of insights your social media tracking should give you:
Who is my audience?
Key metrics:
Age
Gender
Income
Geography
Affinities / Interests
Rule #1 of social media: Know your audience. What do they like? What are their demographics? Why do they follow your brand and others like yours?
Determining the makeup of your audience goes a long way to driving a successful social media strategy. It can also provide a valuable way to segment your social media metrics to find differences in how different groups speak of your brand, and how your messages resonate with them.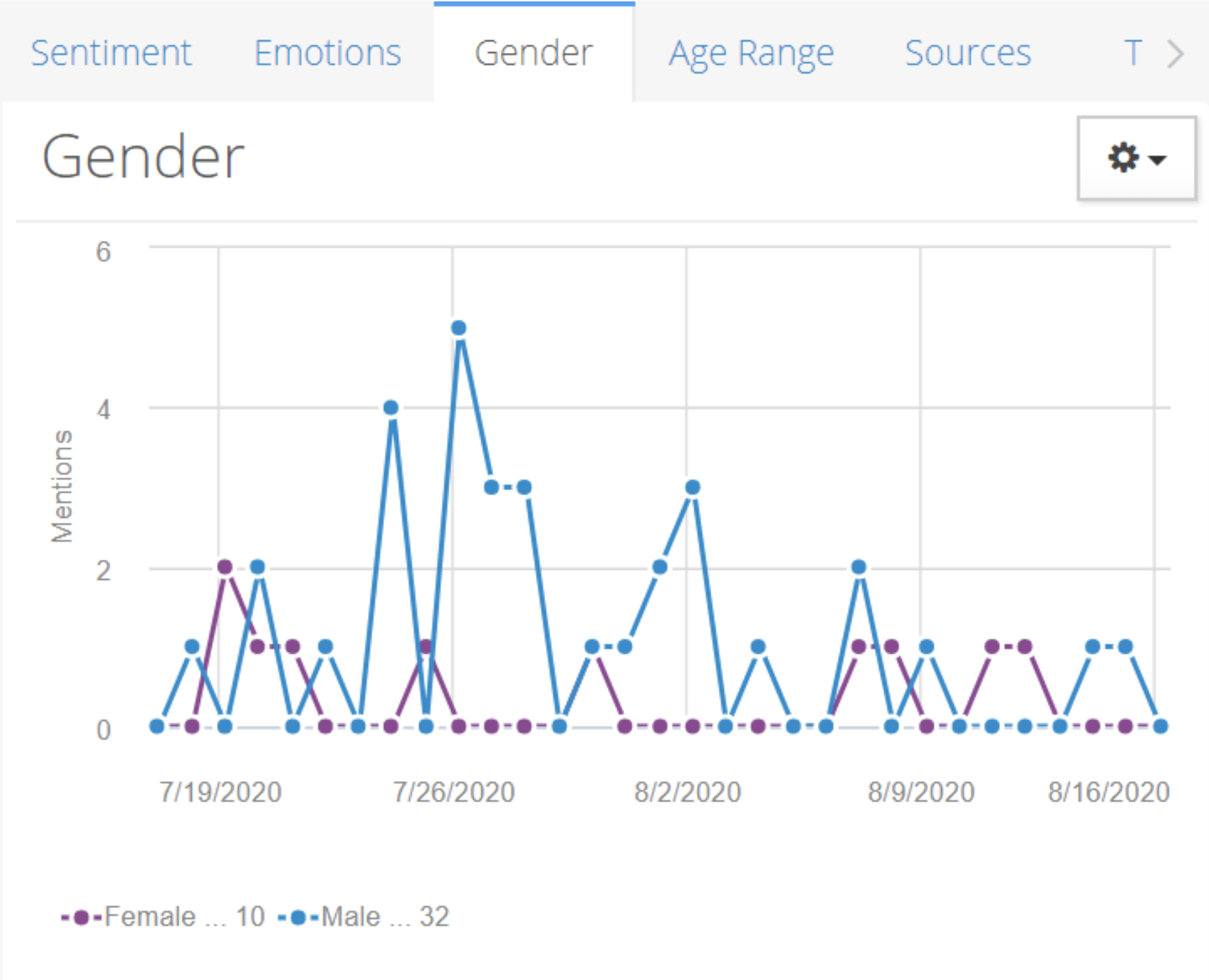 How engaged are my customers?
Key Metrics (all as percentages):
Number of comments
Number of reactions (likes, favorites)
Number of shares
Post-engagement rate (Number of engagements by number of impressions)
Impressions – how many people see your posts – is helpful to know. Knowing how many interact with your posts, whether they comment, like, or share them, shows that they elicited a reaction and resonated with your audience.
In the case of shares/retweets, knowing what type of posts are likely to make people share them organically with their followers is extremely valuable when planning your next campaign.

How are people talking about my brand?
Key metrics:
Customer sentiment / emotions
Target keywords
How often is your brand being mentioned, either directly (e.g., @mycompany) or indirectly? Do people have good or bad things to say when they do, and why?
Good news spreads quickly online. Bad news? Even more so. Identifying and trending the keywords mentioned alongside your brand, and if these mentions are positive or negative, is vital for any successful CX program, and especially for public relations.

How much are people talking about my brand vs. competitors?
Key Metric:
Share of Voice
Customer sentiment
Target keywords
You and your competitors are likely to post about similar topics on social media. But between you and your competitors, who do people see as the authority on these topics?
A part of any essential social media analytics setup is the ability to perform ongoing competitive analysis, and see how much people talk about your brand compared to your competitors. These ongoing insights can also gauge the effectiveness of your different campaigns, and help you find ways to surpass your competitors and become the authority on specific topics in the eyes of potential customers.

How much is my social media presence driving business?
Key metrics:
Social media is critical in increasing brand awareness and building your online community. However, it should also help you drive interest in your offerings, and ultimately, increase revenue.
Tracking how much traffic your social media campaigns drive to your website or landing pages is a great way to gauge if certain posts piqued people's interests.
Then, examining your web analytics data can help you determine how many of those who landed on your site via a social media post took the next step and converted.
This exercise is essential to determine how effective your social media campaigns are in driving people through your sales funnel, and how you could potentially approach future campaigns.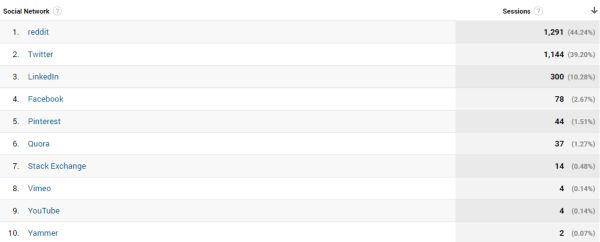 How responsive are we to our customers?
Key metrics:
Social media is an essential customer service channel. According to Convince & Convert, answering a customer complaint on social media can increase advocacy by as much as 25%, while it can drop by 50% if you don't respond.
Your social media tracking should not only help you determine what your customers say and do on social media, but it should also help you assess your team's ability to respond to people promptly.
What do the best social media analytics tools offer?
Going through all of the feedback, posts, mentions, and reviews related to your brand, and pulling actionable insights from these continuously, is a complicated and time-consuming endeavor. The best social media analytics tools simplify this process so you can focus your efforts more on taking action.
What kind of features help simplify this process?
Identifying and clustering trending topics related to your brand
Prioritizing posts and messages that require your attention
Assigning customer sentiment to every post automatically using Natural Language Processing (NLP)
Flagging specific posts based on specific keywords
Comparing your key social media presence with your competitors, including Share of Voice.
Astute Social provides the ability to perform these essential items, and extends beyond analytics to enable social media post publishing and scheduling and to escalate specific posts to key stakeholders within your organization quickly.
Astute Social centralizes all of these features and social media analytics capabilities, so you can easily pull actionable insights to identify and address potential product and PR issues, calibrate your social media and marketing campaigns, and kick your social media game up a notch.
Learn more about Astute Social and request a personalized product demo today.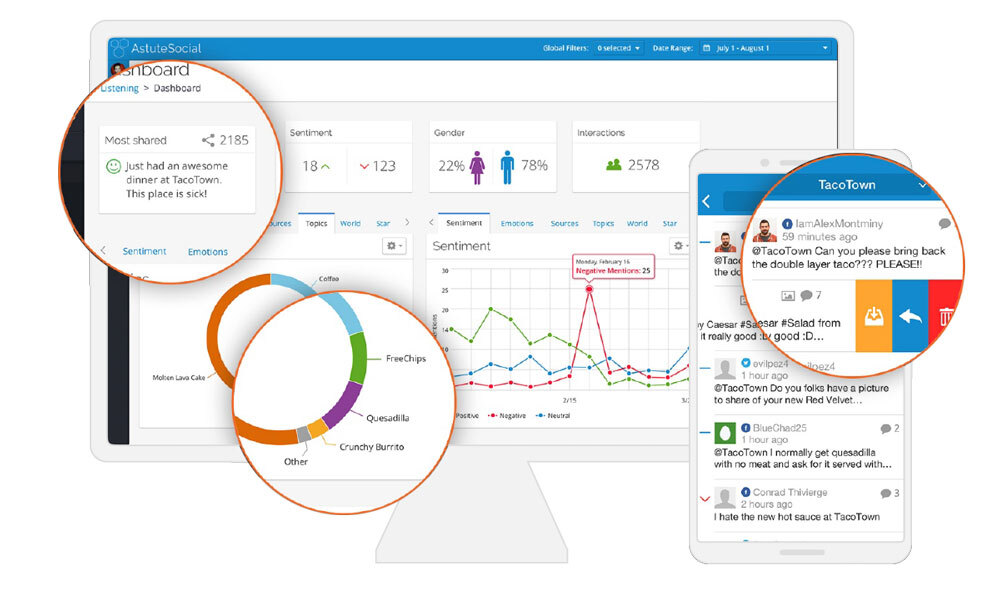 Top image source: Unsplash