Testing Employees for COVID-19: 5 Trends Employers Need to Know
During the pandemic, companies are trying a variety of methods to keep their employees and customers safe. From requiring masks and social distancing to stocking up on hand sanitizer, businesses are responding to the crisis as best they can. Some organizations are wrestling with the issue of regularly testing employees for COVID-19, while more have relied on screening for common symptoms of the virus.
In this post, we're looking at recent developments in how organizations are testing employees for COVID-19 and what key trends you should be watching for.
Current State of COVID-19 Testing in the U.S.
As of this writing, multiple manufacturers are racing to develop and release cheap, reliable COVID-19 tests.
Although P.C.R. tests are considered the gold standard for accuracy (because they can detect even small amounts of the coronavirus's genetic material), they cost an average of $100 each.
Most existing tests also require special equipment and a health professional to administer it. Add in the fact that it can take several days to get results back from the lab, P.C.R. testing for COVID-19 is not a viable option for most employers that want to perform widespread workplace testing.
The consensus among leading economists is that employers are unlikely to carry out testing employees for COVID-19 on a wide scale until it is cheaper and faster.
Cheap, Fast Antigen Testing in the Works
Several manufacturers are working to bring COVID-19 antigen tests to the market. Unlike the P.C.R. test, which evaluates genetic material, antigen tests detect virus proteins. Although less accurate than P.C.R. testing, antigen tests can show results in minutes and are much less expensive. In theory, antigen testing can identify when a person is contagious and most likely to infect other people.
"The way to get this under control is if people find out as early as possible they are infected and then quarantine from others," said Dr. Yukari Manabe, a Johns Hopkins University professor of medicine. Antigen testing has the potential to identify potentially contagious people more quickly, even if the trade-off is a loss of accuracy.
How Are Employers Responding?
In July, reporters from Fortune spoke to multiple employers about their approach to testing and screening employees for COVID-19.
Lauren Vela, senior director for the Pacific Business Group on Health (which represents large employers like Microsoft and Walmart), shared a view held by many employers during the pandemic: Testing is "not really available, feasible or easy, and it's not a solution you can do for every employee, every day." Instead, most employers are choosing to screen employees for symptoms via temperature checks and self-screening questionnaires.
In fact, the majority of U.S. states require workplace screening for COVID-19 symptoms, and many employers are following CDC guidance suggesting that employees screen themselves for symptoms like fever, coughing, difficulty breathing, etc. before coming to work.
However, some employers are weighing the costs of testing their workforce against the risk of disrupting operations if employees get sick. For example, Intermountain is a waste management company that processes more than four million pounds of waste every day. If only a few workers were to get sick, the impact on the business could be devastating: if their entire workforce of 15 became infected and work had to stop completely, they would lose about $20,000 a day.
When they compared the potential losses against the cost of testing their entire workforce (about $2,000 per round of testing), Intermountain decided to move forward with a testing plan. According to Rob Richards, the landfill's president, "We could be testing for years at a high level and never even touch just missing one day's worth of having to divert our waste."
As you determine the best approach for your business going forward, keep these five trends in mind…
5 COVID-19 Workplace Testing Trends
Trend #1: Most employers choose screening vs. testing for COVID-19.
Until cheaper, faster, at-home COVID-19 antigen tests are widely available, businesses are continuing to screen employees for symptoms and exposure to the virus. Using straightforward questions about the employee's temperature and other symptoms, businesses hope to prevent contagious employees from arriving on-site.
As new testing options become more workable, we expect more employers will explore the possibility of more widespread testing.
Trend #2: Employers that choose to screen in-person will face new challenges.
Up to this point, in-person health screening has consisted of screeners (whether medical professionals, managers, or other staff) asking questions and taking temperatures before employees can enter the building. When the weather is warm, it's possible to perform these health checks outside, usually in a parking lot, before employees begin a shift. But as the seasons change and the weather becomes colder, in-person screening processes will have to adapt.
Trend #3: The CDC continues to recommend that employees self-screen when possible.
The CDC has offered guidance to businesses about performing screening and health checks of employees which can be found on their website. Because this virus is highly contagious, the CDC has advised businesses to ask employees to self-screen prior to arriving, using risk factors like fever, respiratory symptoms, and exposure to someone with COVID-19. In comparison to screening on-site, self-screening is logistically easier and safer.
Note that the CDC guidance explicitly says that screening isn't a replacement for social distancing and other protective measures in the workplace, as people showing mild or no symptoms could still be infected with COVID-19.
Trend #4: Organizations are implementing digital self-screening tools.
The CDC recommends employee self-screening – but how are companies operationalizing this advice?
While some businesses have employed paper-based questionnaires, many more are turning to digital formats, like mobile apps and health screening chatbots, that can easily capture and track the information while being user-friendly for workers.
As an example, many colleges and universities are using daily health screening apps with their students. Each day, students must complete self-screening questionnaires that ask about temperature and respiratory symptoms. Some campuses, like Florida Gulf Coast University, are requiring students to display their results before entering school facilities.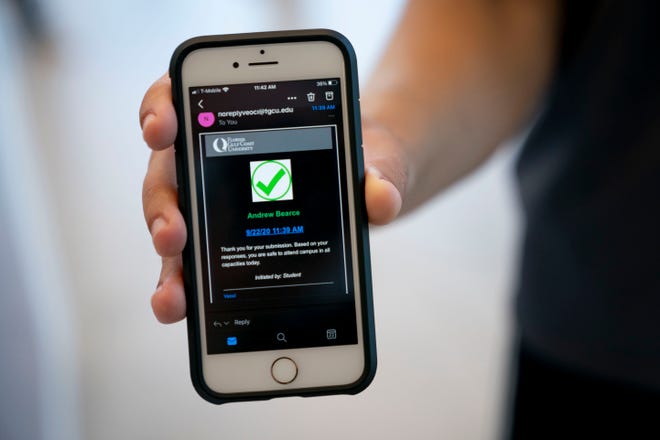 Since the information gathered in health checks is protected medical information, it is important that organizations use secure, online systems that can be easily audited for compliance. An online format is also easier to adapt as new information about the virus comes to light.
Trend #5: As new types of COVID-19 testing comes on the market, self-screening processes will probably change.
As mentioned above, many manufacturers are currently trying to bring cheaper, faster COVID-19 antigen tests to the market.
When these types of tests become more widely available, companies may choose to provide them as an option for employees in the self-screening process. As a result, they will need to adjust their health checks accordingly. This is easy to do with a flexible, digital chatbot-based option for health screening. By simply adding new questions to the screener, employers can record when the test was taken and whether it was positive or negative.
Astute's award-winning Health Screening Chatbot makes it easy for employees to self-screen for COVID-19 symptoms using a CDC-recommended set of questions. The data is captured securely to maintain privacy while tracking responses and trends. As official guidance and testing capabilities change, this flexible technology is designed to adapt along with it.
See a quick demo of the Health Screening Chatbot and learn how it can help keep your workplace safe.